One of my coworkers, who goes by the name Miss Lauren Marie, and is the singer for a country/rockabilly-type band, told me the other day that she just booked a West Coast tour opening up for Mike Ness.
Anyone who knows me at all knows that I used to
in love
with Mike Ness! He was my first post-teeny-bopper crush (George Michael was really my first crush ever), and I got really into Social Distortion in 9th grade, when all I listened to was showtunes. And Social D.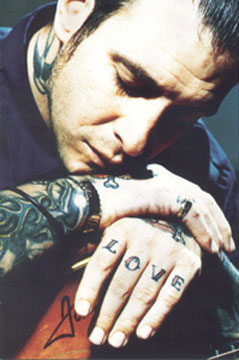 For years afterward, I got so hot for guys with tattoos. Bonus points if they also wore a lot of eyeliner and had bad teeth or a gravelly voice. I started smoking in college because I wanted to ruin my voice and make it sound like Kurt Cobain.
I saw Social D. live at least 3 times in high school and college (or maybe it was just college), and decided I, too, someday wanted tattoo sleeves.
Yes. Sleeves. On me.
After Mike Ness my big crush was Tim Armstrong of Rancid.
Oh, boy, I had it bad for him. Skinny, painted-on pants, the sinewy guitar-playing arms, the attitude, the voice. I also held on to the delusion for years that I was punk rock.
To this day, I still have a soft spot in my heart for the ugly, tattooed, skinny, punk rock boys who smoke too much. Or stocky ones (a la Ness). I met him once, after a show in Dallas, and all I could mutter was that he was awesome. He said "Thank you." I've never been very graceful around celebrities. Have I ever told my story about going backstage after an Imperial Teen show and making a complete idiot out of myself? I haven't? Well, there's a reason for that.
So while I got excited for my co-worker because it's kind of a break for her, I only fondly remembered my past loves. I told her to tell Mike Ness that it was he who was my first love and that in 9th grade I stole my brother's copy of
Social Distortion
and listened to nothing but that and Andrew Lloyd Webber soundtracks for, like, a year. But I eventually got all the records, and even bought that atrocious documentary
Another State of Mind
(which I still have).
I'm sure she won't remember to tell him, but maybe she will and he'll find it amusing. That's all I hope.